The Sunco Safety Policy
Sunco is committed to providing and maintaining a safe and healthy workplace, and to promoting positive attitudes toward safety and health within the organization.
The health and safety of our employees and subcontractors is of primary importance at Sunco, and we believe that safety ranks equally with production, quality, and cost. In order to maintain our high standards of health and safety, the combined participation of management, supervisors and workers is required.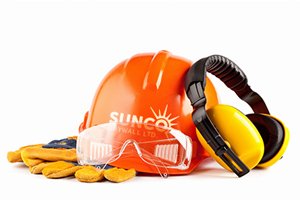 Safety is Everyone's Job
All Sunco employees are expected to correct and report unsafe conditions and activities and to work cooperatively toward the prevention of accidents. In all instances, worksite safety will never be jeopardized to increase production.
Management
Management is responsible for providing a safe worksite and for establishing and maintaining adequate standards of maintenance of site and equipment to ensure that physical and health hazards are guarded against or eliminated and for developing work procedures conducive to a safe and healthy work place.
Superintendents/Foremen
Superintendents/Foremen are responsible for ensuring that workers are properly instructed to do their work safely; for enforcing safe work practices, procedures and regulations and for correcting unsafe activities.
Individual Workers
Individual Workers are responsible for performing work in a manner that will ensure safety for that individual, for other workers and for .the protection of the public. Compliance and safety rules, practices and the O.H. & S. Regulation is a condition of employment.
Sunco – Exceptional Safety Standards
Sunco's current Occupational Health, Safety and Environment Program was implemented in 2005 and is reviewed annually by Dennis Bigham, Sunco President. Following the annual review, necessary updates are made and implemented in order to meet all regulatory standards. Our Program meets the National Audit Standard for COR (Certificate of Recognition). Sunco achieved COR standards in 2005, and we have maintained COR certification since that time in both, Health & Safety and Injury Management/RTW. Sunco employs two internal auditors, and an external safety consultant who can be employed as required.
Sunco is a member of ISNetworld and ComplyWorks. These companies collect safety, procurement, sustainability, quality and regulatory information from contractors; they verify accuracy and report the results. Within the ISNetworld Health & Safety component, Review & Verification Services, (RAVS) Sunco's Occupational Health, Safety and Environment Program is rated "exceptional" with 100% compliance.
Safety Standards for New Employees
Sunco Management holds a strong belief in accident/incident prevention. Training is continuously provided to site supervisors, sub-contractors and employees. New personnel begin safety training with a formal OHS & E Orientation before they start work, and training continues throughout their employment with Sunco.
Safety Standards for Specific Certification
Training for use of specialized PPE is provided as required, in addition to specific certification requirements, i.e. scaffold certification, fall protection, forklift and scissor lift operations etc.) Records of training for specific safe-job procedures and safe-work practices are kept for both new and young workers.
Safety Standards for Supervisors
All supervisors employed by Sunco have taken the BCCSA, Foundations for Health & Safety Excellence course, or the ACSA and SCSA equivalent in each province. A supervisors' meeting is held monthly in all districts where safety issues are discussed and corrective action plans developed for implementation. Managers, supervisors, foremen, and estimators attend regular workshops such as Safety Culture in the Workplace and Joint Health & Safety Committee, Purpose and Responsibility, Accident Investigation, Get in the Game, Modified Work, Injury Management.
Maintaining Safety
A site safety schedule is in place on every Sunco site which includes: Daily FLHA, Scaffold inspections, lift inspections, tool box meetings, hazard assessments, and formal scheduled site inspections.
Sunco runs a highly successful Modified Work program, where all site personnel are taught reporting procedures and the benefits of the program.
It is company policy to investigate all near misses and incidents. Investigations are reviewed by Management, Supervisors, Joint Health and Safety Committee and new Job procedures/ practices are written and implemented as required.
A History of High Safety Standards
By adhering to strict safety regulations, Sunco has never received any Workers' Compensation related fines, penalties, or stop work orders within its 28 years of industry experience.
If you require any specific information such as statistic reports, experience rating etc. please forward your request to our Director of Safety, [email protected]